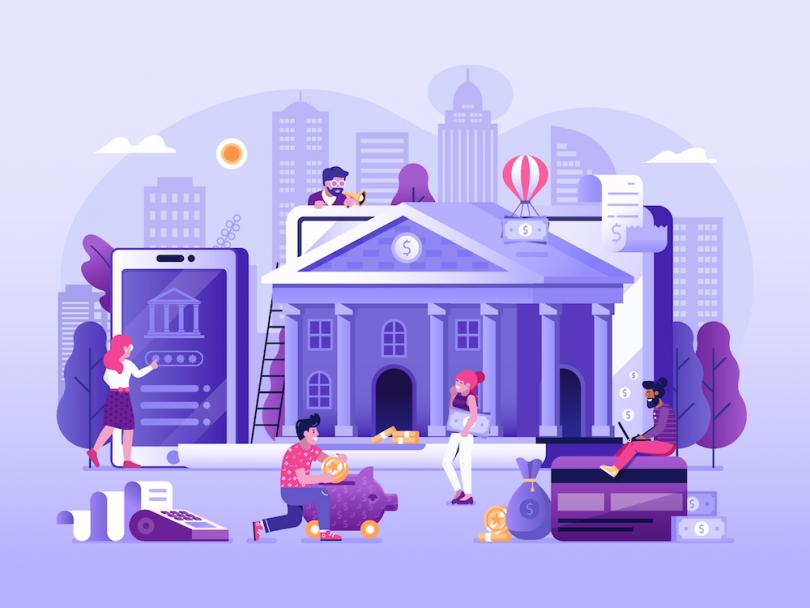 Fintech, a portmanteau of "financial technology," is the application of new technological advancements to products and services in the financial industry. Our guide will walk you through what it is and how it's being used.
What is Fintech? An Overview
---
Fintech is a portmanteau of the terms "finance" and "technology" and refers to any business that uses technology to enhance or automate financial services and processes. The term is a broad and rapidly growing industry serving both consumers and businesses. From mobile banking and insurance to cryptocurrency and investment apps, fintech has broad applications. 
The industry is huge. According to CB Insights, there are "41 VC-backed fintech unicorns worth a combined $154.1B." One driving factor is that many traditional banks are supporters and adopters of the technology, actively investing in, acquiring or partnering with fintech startups because it is easier to give digitally-minded customers what they want, while also moving the industry forward and staying relevant.
WHAT IS A FINTECH COMPANY?
Fintech companies integrate technologies (like AI, blockchain and data science) into traditional financial sectors to make them safer, faster and more efficient. Fintech is one of the fastest-growing tech sectors, with companies innovating in almost every area of finance; from payments and loans to credit scoring and stock trading.
How does fintech work?
---
Fintech is not a new industry, it's just one that has evolved very quickly. Technology has, to some degree, always been part of the financial world, whether it's the introduction of credit cards in the 1950s or ATMs, electronic trading floors, personal finance apps and high-frequency trading in the decades that followed.
The guts behind financial technology varies from project to project, application to application. Some of the newest advances, however, are utilizing machine learning algorithms, blockchain and data science to do everything from process credit risks to run hedge funds. In fact, there's now an entire subset of regulatory technology dubbed "regtech" designed to navigate the complex world of compliance and regulatory issues of industries like, you guessed it, fintech. 
---
Check Out the Top Companies in the Nation's Hottest Fintech Hubs
USES
Though the industry conjures up images of startups and industry-changing technology, traditional companies and banks are also constantly adopting fintech services for their own purposes. Here's a quick look at how the industry is both disrupting and enhancing some areas of finance. 
Banking
Mobile banking is a large part of the fintech industry. In the world of personal finance, consumers have increasingly demanded easy digital access to their bank accounts, especially on a mobile device. Most major banks now offer some kind of mobile banking feature, especially with the rise of neobanks.
Neobanks are essentially banks without any physical branch locations, serving customers with checking, savings, payment services and loans on a completely mobile and digital infrastructure. Some examples of neobanks are Chime, Simple and Varo.
Cryptocurrency & Blockchain
Running parallel to fintech is the birth of cryptocurrency and blockchain. Though both are different technologies considered outside the realm of fintech, there are complimentary applications in which all three can work together to deliver new kinds of financial services. 
Investment & Savings
Fintech has caused an explosion in the number of investing and savings apps in recent years. More than ever, the barriers to investing are being broken down by companies like Robinhood, Stash and Acorns. While these apps differ in approach, each uses a combination of savings and easy, small dollar investing to introduce consumers to the markets. 
Machine Learning & Trading
Being able to predict where markets are headed is the Holy Grail of finance. With billions of dollars to be made, it's no surprise machine learning has played an increasingly important role in fintech. The power of this AI-subset lies in its ability to run massive amounts of data through algorithms designed to spot trends and risks. 
Payments
Moving money around is something fintech is very good at. The phrase "I'll Venmo you" is now a replacement for "I'll pay you later." Venmo, of course, is a go-to mobile payment platform. Payment companies have changed the way we all do business. It's easier than ever to send money digitally anywhere in the world. In addition to Venmo, popular payment companies include Zelle, Paypal, Stripe and Square.
Lending
Fintech is also overhauling credit by streamlining risk assessment, speeding up approval processes and making access easier. Billions of people around the world can now apply for a loan on their mobile devices, and new data points and better risk modeling is expanding credit to underserved populations. Additionally, consumers can request credit reports multiple times a year without dinging their score, making the entire backend of the lending world more transparent for everyone. Credit companies worth noting include Tala, Petal and Credit Karma.
Insurance
While insurtech is quickly becoming its own industry, it still falls under the umbrella of fintech. Insurance is a somewhat slow adopter of technology, and many fintech startups are partnering with traditional insurance companies to help automate processes and expand coverage. From mobile car insurance to wearables for health insurance, the industry is staring down tons of innovation. Some insurtech companies to keep an eye on include Oscar Health, Root Insurance and PolicyGenius.
FINTECH TRENDS FOR 2020
Fintech is a burgeoning industry with virtually endless ways to improve upon our financial systems. Some fintech trends we'll see in 2020 are: The rise of robo-advisors in stock trading, the use of blockchain in anti-money laundering efforts, the implementation of alternative credit reporting and the decentralization of global payments.
Source: https://builtin.com/fintech
---